Spindrift Music Catalog
Scores and Parts
Through the Mist for flute, violin or viola, harp or guitar
by Pamela J. Marshall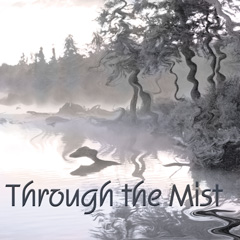 A free-flowing exploration of delicate timbres. Intricate rhythms give the piece a cadenza-like character, as if all three players were improvising together.
Three movements:
Ashuelot Sunrise - Allegretto
Rocky Shore - Andante arpeggiato
Nocturne - Andante sonore
Through the Mist also exists in an orchestral version.
The sheet music includes all alternate parts.
Notes by the composer
Through the Mist was written for colleagues at the company where I worked in 1992. Three people organized a trio to commission this work as part of the company's Christmas auction for charity. When I offered to write a piece as an auction item, the trio bid for it and paid the commission fee to their favorite charities.
The first movement, marked Allegretto, is a rhapsodic cadenza for three. Shifting rhythms and rubato keep the music from settling into a regular pulse. The phrases become more complex and build to a climax in a tonal center of D. A transition takes the music to a sort-of coda for violin with a guitar accompaniment in which the rhythm becomes more regular and the harmonies clearly move from A back to D minor.
The second movement, Andante arpeggiato, is more austere and hesitant, with minor seconds and a knocking motive, which builds to the hammered octaves at the climax.
The third movement, Andante sonore, begins with the sound of a romantic, tropical song. An interlude follows where the flute sings and the violin rhapsodizes on over the guitar's ostinato. The opening melody returns, hauntingly. The movement finally settles into the implied opening key of E minor with rhythmic references to the knocking motive of the second movement.
I want to thank James Meadors for his help in making the guitar part playable.

David Cleary wrote in New Music Connoisseur of a performance in April 2003:
[Through the Mist] is a laid-back, graceful, expressive selection that possesses more depth than its gentle surface might suggest.
Duration 10-12 minutes
Recording The Lexington Symphony Chamber Players, Danielle Boudrot, flute; Elizabeth Whitfield, violin; Barbara Poeschl-Edrich, harp recorded Through the Mist for its namesake CD Through the Mist on Ravello Records
Performance Check out the photo gallery of the Lex Sym Chamber Players May 2013 concert in Acton MA.
Download perusal score



2Mb

free
Download an Acrobat PDF file of the score for perusal. This file is for viewing only and is not enabled for printing.Includes two versions of the score and all the parts.

Buy PDF delivered via email

$16

Purchase the music in Acrobat PDF format via PayPal. The print-enabled file is delivered via email. No shipping charge.

For performance, print 3 copies.


Buy printed music

$28
Set of three scores. Purchase a printed copy of the music via PayPal. The printed music is delivered via US mail.
Buy recording
$15

Buy Through the Mist CD. Ravello Records #rr7901.