Spindrift Music Catalog
Scores and Parts
Play Book for piano
by Pamela J. Marshall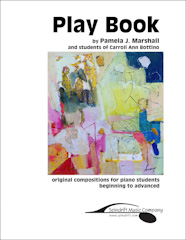 Play Book is the result of composing and improvisation workshops at the Pacem music studio in Lexington, MA in 2007. The students, elementary through high school, got to work with a real live composer. They also worked with melody, harmony, and rhythm--by listening, discussing, improvising solo and with each other. Some of them also wrote their own pieces, which are included in the book.
Most pieces are piano solo; two include a recorder part. Each piece was written according to the specifications of a particular student -- fast, slow, happy, mournful, angry, rhythmic, pretty, high-pitched. I had only one disappointed response, where her idea of a galloping horse was different from mine.
I wanted their first commissioned piece to give them the idea that new music can be personal and a part of their lives, and that composers are living, breathing people, rather than only old and dead. The workshops also were designed to inspire them to create their own music, improvised or written, and that along with the discipline of their lessons, music is also fun! The book also includes several students' own compositions.

Level: Beginner to advanced
Pieces 1-9 are beginner pieces; 10-21 are intermediate; 22-31 are more advanced with more complex rhythms. 30 & 31 interpret the student's own poem.
44 pages
More info Press release about the Play Book project. Listen, and purchase a downloadable book and mp3 music tracks or a printed book with CD in the Spindrift Bandcamp store.
Download perusal score

2.2Mb
free

Download an Acrobat PDF file of the score for perusal. This file is for viewing only and is not enabled for printing.

Buy music book and CD

Buy book and CD or downloadable PDF and audio at the Spindrift Bandcamp store. You can preview the recording on Bandcamp too.

It's a separate shopping cart from this section of the web site.