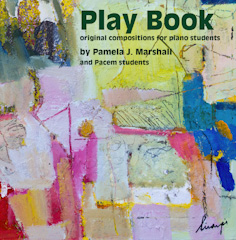 Today is the official release party!
Play Book is my new music book and CD — a collection of pieces I've written for piano students, plus music by those piano students. From beginner to high school-advanced, the pieces include lots of tunes, jazzy rhythms, contemporary harmonies and techniques. Did I say "hummable tunes"? I keep humming them in my head. I think they're catchy, but then I'm the composer!
You can listen to the tunes at the Spindrift Bandcamp store. You can buy your copy as a download (PDF and mp3 tracks) or hardcopy (book and CD) there too. (More about Play Book in my online catalog).
Here's one of the tunes "For Kavi – there and back again" 
I had great fun getting to know each student who participated in the composing and improvisation workshops that we did together. Each piece was written for a specific student, according to their requests for a dance, a song, fast, slow, happy, mournful, angry, rhythmic, pretty, high-pitched. The book includes two poems that the students wanted me to translate into music. I wanted them to find out that commissioning music was an artistically rewarding thing to do, for them as performers as well as for the composer. 
Invitation #1:  Come to the party! Party details 
Invitation #2:  Record yourself playing one of the pieces and post a link in the comments here. Or, share your thoughts on the music, or on music for kids, or adult amateurs, in general. What kind of piece would you commission for yourself to play?
Update: Invitation 3: Have a listen to the Play Book tracks at the  Spindrift Bandcamp store. Then leave a comment here. The first 10 commentors will get free download codes for the book PDF and the mp3 tracks.
If you like this, please tell your piano-playing friends and their teachers. Share on Facebook or Google! Thanks!