Angel Music for violin & piano
Based on themes from my choral music Shepherds & Angels
Three movements: Memory, Dreams, Joy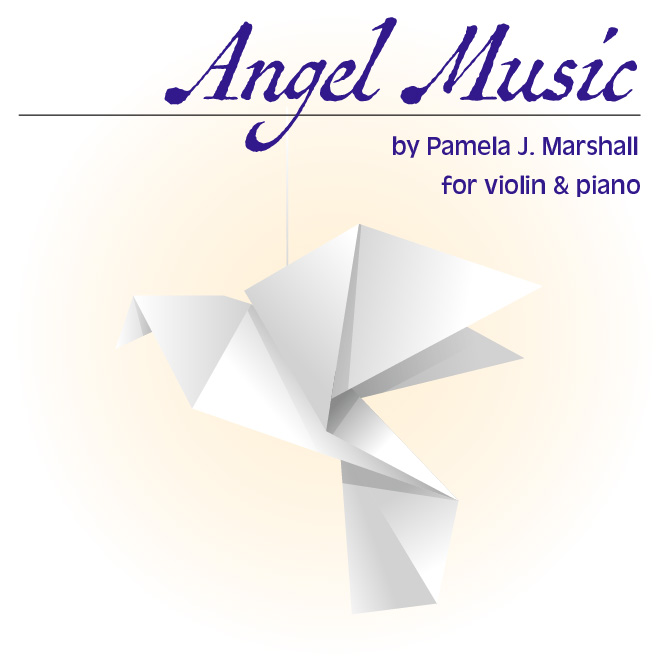 My recent project, Angel Music, takes its name from its musical seeds in my Christmas cantata Shepherds and Angels. However, Angel Music is soulful & happy music for any recital. The prelude and some of the interludes between verses become the three movements, mixing modal & chromatic melodies, snappy rhythms, and dense harmonies.
I've finished an audio demo this week of all three movements. Have a listen to the three movements of Angel Music at soundclick.com.
Angel Music: Memory
"Memory" is contemplative, with a bit of sadness. The beginning is the short prelude from the cantata. It continues from there to spin out the tunes. Do you hear the influence of the original harp sound on the piano part?
Listen on SoundClick
Angel Music: Dreams
"Dreams" is impressionistic. The piano dominates the opening with its fanfare chords. The mood shifts to mysterious and the violin plays some longer melodies. A hymnlike section leads to a fragment of a waltz near the end.
Listen on SoundClick
Angel Music: Joy
"Joy" is lively in a reserved way. In the cantata, this music introduced the verses of "Mary and the Baby, Sweet Lamb", a Texas tune I found in Ruth Crawford Seeger's collection American Folk Songs for Christmas. I meant to use only the transitions between the verses, but the tune is so infectious that it crept back in, first implied, then played straight out at the end.
Listen on SoundClick
Footnote! About the cantata

Shepherds & Angels is my 10-movement cantata for chorus, violin, harp and tambourine. It has fresh settings of American Christmas folk songs, tunes I found in sources like Ruth Crawford Seeger's collection American Folk Songs for Christmas; William Billings, New England's 18th century first composer; and Southern Harmony, a shape-note collection for group singing published in 1835. I love these old tunes, untainted by overuse. Most were unfamiliar to me, but folk music lovers in other parts of the country may have heard them before.
Image credits
The origami dove on the cover of Angel Music is designed by Freepik.
The painting that represents Shepherds and Angels is Song of Angels, painted by William-Adolphe Bouguereau in 1881.