Spindrift Music Company
         38 Dexter Road, Lexington, MA 02420
Press Release  August 17, 2009
Contact: 
        Pamela Marshall  pmarshall [ at ] spindrift.com  
        Lexington Music School 781-863-8484
        Release:  Immediately
Composition and improvisation lessons offered by composer Pamela Marshall
Beginning in September, you can discover your inner composer at the Lexington Music School. On Thursdays, starting September 10, composer Pamela Marshall will offer private composition lessons and group improvisation classes.
If you have ever hummed a made-up tune or noodled at the piano and liked the sounds you made, then you're ready to try improvising or composing. Ms. Marshall invites musicians of any age to join an improvising class and have fun creating music on-the-fly with fellow musicians. If you want to write down those musical thoughts, then composing lessons are the next step. You don't need years of study to start, and it's up to you how far you want to go. The budding composer will find improvisation is a useful tool, so composers will want to consider signing up for both lessons and an improvisation class.
Composition lessons
In private composition lessons, one-on-one, Marshall helps students develop their musical voice, in whatever styles they wish to work. Through discussion and analysis, Marshall helps students develop their musical ideas, working with the material they've created. In lessons, students also work on notation to make sure the written music matches the sounds they imagine. Depending on interest, she also coaches the student in orchestration, music theory, and musical form. Students expand their exposure to musical ideas through recommended listening.
Improvisation classes
Marshall's free improvisation classes are for intermediate and advanced performers who want to discover music-making in the moment, without printed music. Each class is a small group of three to six musicians. This style of improvisation, designed for the classically-trained musician, trains the ear and musical reflexes to respond creatively to the other musicians and to craft a musical response to what others are playing. It is not jazz improvisation with chord changes and phrase structures; the musicians develop the structure as they improvise.
Classes include exercises that encourage the performer to get creative with each of the tools of a musician's vocabulary: scales, harmony, melody, rhythm. The students play in duets, trios, and larger groups as everyone listens and learns together. Through the exercises, students add tools to their improvisation toolbox.
About Pamela Marshall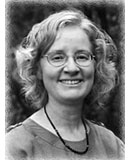 Pamela Marshall has written music since she was in high school. She frequently uses free improvisation to develop musical ideas for her own compositions. In Lexington, she did an extended workshop with students of piano teacher Carroll Ann Bottino. Students listened and reacted to examples of various musical styles and tried various improvisation techniques. Marshall also wrote a piece for each student, according to the student's own requests and interests. The project resulted in Play Book, a book of over 20 pieces of music by Marshall plus pieces written by the students themselves. She has also given workshops for Suzuki on the Green and for Creative Arts in Reading. She attended an improvisation workshop for horn players in western Massachusetts in 2008, where she met her long-distance improvisation mentor, horn improviser Jeffrey Agrell. She uses his methods for practicing improvisation in her teaching.
Pamela Marshall received degrees in composition from the Eastman and Yale Schools of Music where she also studied horn, conducting, and film composing. Her commissions include the South Beach Chamber Ensemble of Miami, The Master Singers of Lexington, Green Mountain Youth Symphony, Assabet Valley Mastersingers, among others. Her music has been heard frequently in Lexington: at the former Just In Time Composers series, Depot Square Gallery, and at First Parish Friday Noon concerts. Several recent projects are connected to poetry: Poetry-Inspired Solos for various instruments and Art-Poem-Music, an artist-poet-composer collaboration that includes Lexington artist Sirarpi Heghinian Walzer. Ms. Marshall plays horn in the Concord Orchestra and records concerts and nature soundscapes. She has lived in Lexington since 1987.
Class details
Classes and lessons are on Thursday afternoons. Read more about Marshall's classes at www.spindrift.com. Contact Pamela Marshall directly to ask questions about classes and scheduling at info@spindrift.com or 781-862-0884.
Lexington Music School is located in the Monroe Center for the Arts at 1403 Massachusetts Avenue. Epp Sonin founded the school in 1985 to offer instrumental and voice lessons and workshops with a talented and dedicated faculty. Learn more about the offerings of the Lexington Music School at www.lexingtonmusicschool.com or call 781-863-8484.
END
Web links

Lexington Music School

Spindrift Music Company