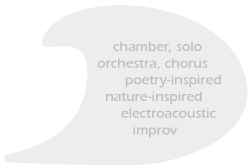 Welcome!
Here you'll find my contemporary classical music for many instrumental and vocal combinations. Browse my Sheet Music Catalog, which is one way to peruse the Spindrift store. Check out the Listen pages, or find listening links for specific titles in the store. Check out my projects. If you don't find something for your instrument, contact me so we can collaborate on something new.
Recent Projects
spinning
Music for a chorus that can't rehearse together. Part of Triad's virtual concert Nov21,2020, with video.
Believe
For flute and string trio, for Lowell Threads concert. Newly composed interludes for Mozart flute quartets.
Refugees
Audio editing for Triad's virtual choir production.
Choral Music for Nature-Themed Concerts
by Pamela J. Marshall
View scores & listen
Instrumental Music for Nature-Themed Programs
by Pamela J. Marshall
View scores & listen
From Last Autumn - Listen!
Organ performance by Kathryn Rosenbach