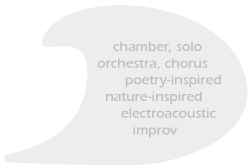 Welcome!
Here you'll find my contemporary classical music for many instrumental and vocal combinations. Browse my Sheet Music Catalog, which is one way to peruse the Spindrift store. Check out the Listen pages, or find listening links for specific titles in the store. Check out my projects. If you don't find something for your instrument, contact me so we can collaborate on something new.
Ruminations - Pam's new album of electroacoustic music
Orchestral but slightly warped
Most of the tracks have an orchestral sound, slightly warped to evoke mysterious and resonant soundscapes. I've also resurrected a track from the 1980s made on the Kurzweil 250. A vintage synth now!
Contemplative and intriguing, calm but with some ruffles. Several tracks are musical miniatures, including a 30-second whirling dance. For the final track, you can relax into a hypnotic meditation, which occasionally sounds like a chill Bolero.
Social action too
Let's support artists in this pandemic time. I will donate 50% of proceeds in April and May to the New Music Solidarity Fund at New Music USA. Help me help our fellow artists whose livelihoods have disappeared when there are no concerts.
From Last Autumn - Listen!
Choral Music for Nature-Themed Concerts
by Pamela J. Marshall
View scores & listen
Instrumental Music for Nature-Themed Concerts
by Pamela J. Marshall
View scores & listen
Recent Projects
Angel Music for violin & piano, with themes from my choral music Shepherds & Angels.
Three movements:
Memory, Dreams, Joy
Shepherds & Angels is American Christmas folk song, but this is soulful & happy music for any recital. S&A interludes become the 3 movements, mixing modal & chromatic melodies, snappy rhythms, dense harmonies.
I'll make a demo ASAP!
Organ performance by Kathryn Rosenbach