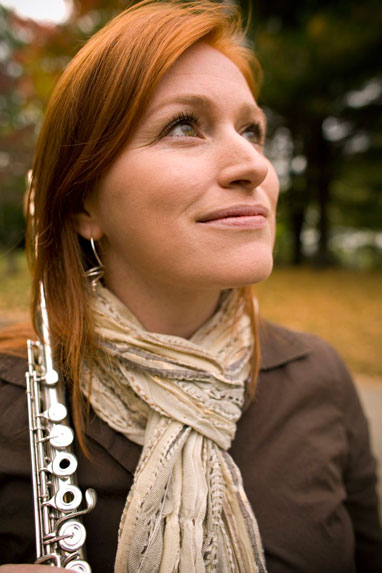 Ashley Addington, the upper voice of the Addington/Arnold flute-and-cello duo, is a flute performer and teacher north and west of Boston. She is originally from Austin, Texas.
Last year she played with the Neponset Valley Philharmonic, the Orchestra of Indian Hill, Sound Icon, Simon Sinfonietta, and the Callithumpian Consort. I definitely notice the emphasis on new music.
In the Addington/Arnold Duo, they play music on the cutting edge and newer, with pieces by Elliott Carter, Kaija Saariaho, Villo-Lobos and plenty of premieres and repeat performances of New England composers. Composers, like me, especially like those repeat performances. It means the players do like the music!
Her web site is http://www.ashleyaddington.com. Check out her performance calendar and a live recording of her playing Takemitsu's Toward the Sea.
Her teaching resume is extensive and impressive — lots of summer festivals, as well as studio teaching during year. She directs Flute Choirs at Indian Hill and Nashua.
She's also a crafter – another compatibility with her duo partner Rachel Arnold –  and lives in Somerville.
Thank you, Ashley, for being a performer for my Commissioning Guild project this year!
Readers, you can be part of the Guild and support this new music. On January 10, there are 18 days left. Donate at RocketHub now!