Music for SATB chorus, trombone and piano by Pamela J. Marshall
The Future of Life
About the project
Classical music concerts and environmental causes don't often cross paths in obvious ways. But in The Future of Life, the chorus sings a message from Pullitzer Prize winner and famed entomologist Dr. Edward O. Wilson – the need to preserve the world's biodiversity. The composer writes, "I found deep inspiration in Dr. Wilson's book The Future of Life. He writes with passion and built-in poetry about a topic that really concerns me. I hope when you hear the music, you will want to get Dr. Wilson's book and think about these issues. My mother already has!"

The eight movements range from a conversation with Henry David Thoreau on the state of the natural world today, a warning and invitation to protect habitat now instead of later in "Pay Mother Her Due", and a poetic vision of species distribution in "How Spiders Came to Hawaii". Two additional texts, "Bee-Song" by poet Anne Baring and "Grand Grand Mother is returning" by Judy Grahn, celebrate nature and humanity. The music strikes a balance between warning and hope. Dr. Wilson believes there is hope, if we decide that biodiversity matters to us and we act very soon to protect all of life.
The Future of Life
For
SATB chorus, trombone, piano
Duration
30 minutes
Commissioned by
The Master Singers of Lexington, MA, Adam Grossman, Music Director
First performance
Sunday October 28, 2007 4pm
Darren Acosta, trombone
First Parish Unitarian, Harrington Road, Lexington, MA USA
Texts by
Conservation scientist Dr. Edward O. Wilson and poets Anne Baring and Judy Grahn
Get the Music
See the score, hear a demo, and purchase score and parts for The Future of Life in the Music Catalog.
Movements
| | Movement Title | Instrumentation | Dur. |
| --- | --- | --- | --- |
| 1 | Invocation | SATB (wordless), trb, pno | 2' |
| 2 | Bottleneck: A Letter to Henry | SATB, trb, pno | 5'20 |
| 3 | Pay Mother Her Due | SATB, trb, pno | 4' |
| 4 | How Spiders Came to Hawaii | SATB, trb, pno | 3' |
| 5 | Interlude | trb, pno | 1'30 |
| 6 | A Bequest | SATB, trb, pno | 3'30 |
| 7 | Bee-Song | SATB, pno | 3'30 |
| 8 | Grand Grand Mother is returning | SATB, trb, pno | 5' |
| | Total duration | | ~28' |
Notes on each movement - Read more about the individual movements
Finding the text
Until recently, I had not found texts that worked for me as choral texts. Most poetry I liked seemed too intimate for many voices. Now, however, I feel like I'm on a roll, finding texts that connect humanity to the natural world, exactly what I want for choral music. My first big choral work was "Weaving the World", with a text by Janisse Ray. In that text, Nature is a refuge in a warring world and spiders spin webs that hold the world together.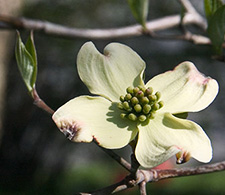 For my second large choral piece, I chose The Future of Life by Dr. Edward O. Wilson. It is about the importance of preserving biodiversity -- for many reasons, including because it is a refuge.
The book is full of scientific detail, economic data, and case studies of successes and failures. So how does it become a text for singing? Dr. Wilson is passionate about his subject and the moral and spiritual aspects of our relationship to Nature are woven into the book too. I found many passages that I could alter slightly to make a settable text and I enjoyed crafting the selections to be succinct with all the passion preserved. He even had a very poetic passage about spiders riding the wind to Hawaii. Then at the end, I added the work of two real poets. The serene beauty of Anne Baring's Bee-Song and the energetic rhythms of Judy Grahn's "Grand Grand Mother is returning" were the right ending for the music, a hopeful contrast to the severity of the earlier movements.
Spreading the message
I'm excited to have created this piece of music with such strong, emotionally compelling texts, but that isn't the end of it. The complete book "The Future of Life" has a lot of detailed information about why we need to protect and conserve the diversity of Earth's life. Please read the book! Let others know about its message!
To learn more about the issues raised in the text - biodiversity, population issues, conservation, and protection of all life, including decent living conditions for all people -- check out these links.
More information about biodiversity, conservation and art for the earth