Spindrift Commissioning Guild in 2010
American Christmas Songs for Halalisa Singers
About the Music  
I've been intrigued with less familiar American carols for a long time. After discovering Ruth Crawford Seeger's American Folk Songs for Christmas when I was just out of college, I've treasured those melodies and arranged them into horn duets and solo songs for performing in the Boston subway, created an orchestral set called Three Appalachian Carols, and also did variations on Star in the East for 8 horns.
Shepherds and Angels

Prelude and Nine Old American Christmas songs
For
SATB chorus, violin, harp, tamborine
Duration
25 minutes
First performances
December 2011
The Genevans, Geneva College, Pennsylvania, directed by Robert Copeland
The Master Singers of Lexington, MA, directed by Adam Grossman
More information
Sources for tunes include Southern Harmony, William Billings, and Ruth Crawford Seeger's collection of American Christmas songs
Tunes and lyrics PDF download
Project details and tune sources PDF download
Shepherds and Angels in the Spindrift Music Catalog


More recently, I recorded a chorus singing Benjamin Britten's Ceremony of Carols alongside Conrad Susa's "Carols and Lullabies: Christmas in the Southwest", both with harp in the accompaniment. Choral directors are often interested in pieces that include harp at Christmastime!
I got a hankering to work with my favorite Appalachian carols again. My friend Mary Neumann, director of the Halalisa Singers, was immediately interested. I was familiar with several old tunes, she suggested a few, and I found more as I looked at old sources like William Billings and Southern Harmony.
The result is Shepherds and Angels, approximately 25 minutes long, with a prelude and 9 songs. The instrumentation is SATB chorus, harp, and violin. The music has a strong traditional feeling, with some spicy harmonies and instrumental interludes.
The Tunes
There are 10 movements, a prelude and 9 songs:
Prelude for violin and harp
Exultation (by Humphreys, from Southern Harmony, No. 88)
Rise Up Shepherd and Follow (from Religious Folk Songs of the Negro, As Sung on the Plantations, 1909)
Jesus, Jesus Rest Your Head (collected by John Jacob Niles, date and source unknown, probably
somewhere in Southern Appalachia)
The Babe of Bethlehem (by William Walker, from Southern Harmony)
Shepherds in Judea (Tune: Emanuel, by William Billings, verses from Ruth Crawford Seeger's Christmas collection)
Oh, Mary and the Baby, Sweet Lamb (from Archive of American Folk Song, Library of Congress)
Restoration & Cradle Hymn --two very similar tunes (words from a poem by Isaac Watts, English hymn writer of the early 1700s.Restoration is from Southern Harmony, No. 5b, no composer given. Cradle Hymn is from Devil's Ditties by Jean Thomas, 1931, published by Hatfield. The tune of Cradle Hymn is from a Tennessee singer, according to R.C.Seeger)
Jesus Born in Beth'ny (collected by John Jacob Niles. Recorded in Virginia in 1932)
Rejoice My Friends (Tune: Knoxville by William Walker, from Southern Harmony)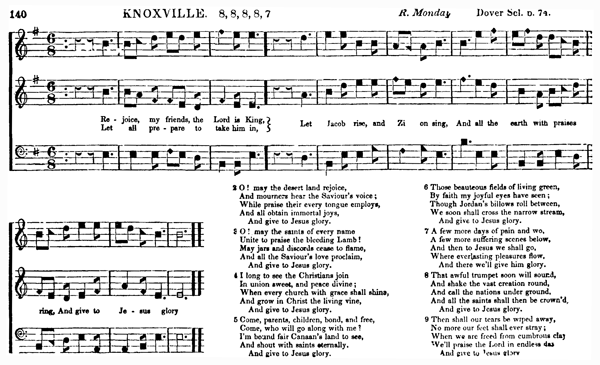 Rejoice My Friends the Lord is King (tune: Knoxville)
by William Walker from the shape-note song book
Southern Harmony, published 1854
Get the music
Shepherds and Angels in the Spindrift Music Catalog. Download a perusal score and order printed music or discounted PDF scores you print yourself.
Audio
New England premiere by the Master Singers of Lexington, MA, Adam Grossman, director.
The original computer-generated audio demo (no words) is hosted at SoundClick
Join the project
The project is completed.
Performances
The Master Singers of Lexington
Sunday, December 11, 2011 4pm
First Parish Unitarian, Harrington Road, Lexington, MA
Masssachusetts premiere of Shepherds and Angels, American Christmas songs for chorus, violin, harp, tamborine, directed by Adam Grossman
Almost perfect performance
Geneva College
December 2 & 3, 2011
Pennsylvania premiere of Shepherds and Angels
The Genevans, directed by Dr. Robert Copeland, at First Presbyterian Church in Beaver Falls, PA
Great choir and a moving evening, as everyone celebrated Dr. Copeland's last Christmas concert before retirement
Read about the Guild.
Guild members
The following friends and supporters have contributed to support the composing of Shepherds and Angels for chorus:
Nancy Burdine
Carson Cooman


My thanks to you both!
About the Guild Project Expand Text
Target completion date: June 30, 2010
Target amount: Up to $1500 for commission fee
Download the fundraising letter
Benefits for Guild sponsors
Program listing All sponsors will be listed in the concert program of the premiere, in the printed score, and on this web site, with my great thanks.
Recording of the premiere and printed score For sponsors who donate $75 or more, please request these if you would like either one
Fiscal Sponsorship by Fractured Atlas Expand Text
In 2005, I organized Spindrift Commissioning Guild to accept monetary support for specific projects. Now Spindrift Commissioning Guild can accept tax-deductible charitable donations under the fiscal sponsorship of Fractured Atlas.
Spindrift Commissioning Guild is a sponsored project of Fractured Atlas, a non-profit arts service organization. Contributions in behalf of Spindrift Commissioning Guild may be made payable to Fractured Atlas and are tax-deductible to the extent permitted by law.
It would be really helpful if you can give at least $25, but please consider any gift you can afford. Thank you!
How to Donate
The project is completed.

Fractured Atlas Learn more about their support for artists, including fiscal sponsorship for hundreds of artists' projects
Halalisa Singers Check out the concerts of this fabulous world-music chorus
Southern Harmony You can see scans of all the pages online
Thank you for your interest and support!
Back to Guild Overview