Spindrift Commissioning Guild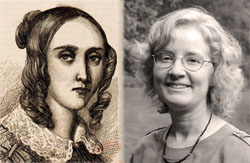 Composers Louise Farrenc & Pamela Marshall
Download the concert postcard
Concert in Lexington, MA
March 12, 2010 - New England premiere of "Quinteto sobre los Poemas de Carlos Pintado" by Pamela Marshall and Piano Quintet No. 2 by Louise Farrenc
Preview concert March 7 - see below
About the Music  
Origin of Quinteto
"Quinteto sobre los Poemas de Carlos Pintado" is a 30-minute piece for violin, viola, cello, double bass, and piano. It was commissioned by South Beach Chamber Ensemble in Miami in 2008 and they played several performances in May and August 2009, in Miami and Wausau, Wisconsin.
The Quinteto is a large and dramatic piece. Each of the four movements is informed by the imagery and emotions of four poems by Cuban poet Carlos Pintado. After South Beach director Michael Andrews met Carlos in Miami, they both sent me many samples and I selected the four poems. It was hard to choose! The performance concept is to read each poem before its music was performed, setting the mood for reflection on both the words and the music. They can be read in Spanish or English. There are a lot of ties between the words and music. Some of the musical motives are settings, as if sung, of the words, particularly in the third movement "Yo no te nombro musa". Other connections reflect the imagery, such as the strummed piano imitating zithers in the first movement "Las noches en Mortefontaine".


Listen to the first movement of Quinteto
"Nights in Mortefontaine". You'll find
the other movements there too.
About the concert
Over the years, I've presented lots of concerts of my compositions in my home town of Lexington, Massachusetts. I'm particularly enthusiastic to have a performance of Quinteto in my own backyard. It represents my best work and audiences so far have really enjoyed the music and its relationship to the poetry. I'm proud of it and want everyone to hear it!

This program is supported in part by a grant from the Lexington Council for the Arts, a local agency which is supported by the Massachusetts Cultural Council, a state agency.
Thank you, Lexington Council for the Arts!
Concerts scheduled for March 12 and March 7, 2010 Expand Text
Concert details finalized for March 12, 2010
The Quinteto premiere concert is:
Friday March 12, 2010 8pm
Follen Community Church, 755 Mass Ave, Lexington, MA
Tickets are $15, students/children free
Program:
Piano Quintet No. 2 in E major by Louise Farrenc (mid-1800's Romantic era)
Quinteto sobre los Poemas de Carlos Pintado by Pamela J. Marshall
Performers - I've got a fantastic lineup of performers for the concert:
Carmen Rodriguez-Peralta, piano - Chair of the Music Dept at Middlesex Community College
Abigail Karr, violin - member of the Arcturus Ensemble
Sarah Darling, viola - director of the Arcturus Ensemble
Rafael Popper-Keizer, cello - member of Chameleon Arts Ensemble and popular Boston freelancer
Susan Hagen, doublebass - Gordon College faculty and another popular Boston freelancer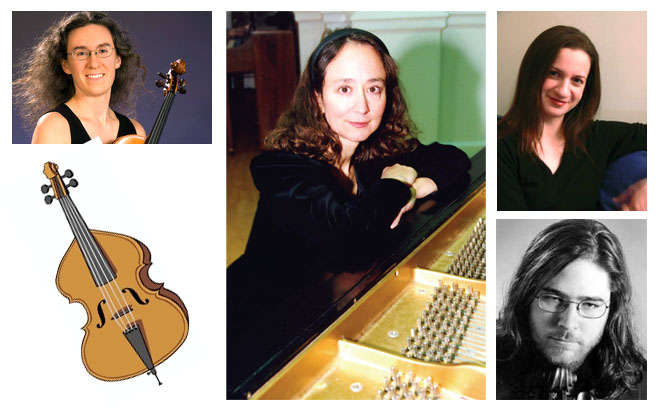 Support the concert -You can help present this concert! Use the Fractured Atlas web site to donate by credit card
Read more about Fiscal sponsorship and tax-deductible donations below.
Come to the concert - Be a part of this concert! Come and hear this dramatic and beautiful music! Buy tickets here
Preview concert at Middlesex Community College
March 7, 2010 7:30pm - Hear excerpts of the Quinteto and Farrenc Piano Quintet
Middlesex Community College, MCC Concert Hall, Bedford Campus
591 Springs Road, Bedford, MA 01730
About the Guild Project, Supporters Expand Text
Concert date: March 12, 2010
Target amount: Up to $3000
I've budgeted up to $3500 for concert expenses, although there are ways to conserve, by paying lower fees to performers and renting a less expensive hall. Income will come from ticket sales and, possibly, program ads. I've also applied for a Local Cultural Council grant.
I'm reserving Follen Church in Lexington, Massachusetts for Friday evening March 12, 2010. Even if you can't be a Guild sponsor, save the date and come to hear the music. Tickets will be $15 each, with senior discounts and free student tickets.
All this planning is still in process. I'll add more details as they get set.
Benefits for Guild sponsors
Program listing All sponsors will be listed in the concert program with my great thanks.
Concert tickets If you contribute over $50, you can get concert tickets with your sponsorship. But, please follow these instructions: please donate by check (see next section) and let me know how many tickets you want. Your donation will be partially tax deductible. Online donations must be fully deductible donations, with no donor perks of monetary value.
Honored Supporters
Thank yous to all of you who have supported this project!
Fiscal Sponsorship by Fractured Atlas Expand Text
In 2005, I organized Spindrift Commissioning Guild to accept monetary support for specific projects. Now Spindrift Commissioning Guild can accept tax-deductible charitable donations under the fiscal sponsorship of Fractured Atlas.
Spindrift Commissioning Guild is a sponsored project of Fractured Atlas, a non-profit arts service organization. Contributions in behalf of Spindrift Commissioning Guild may be made payable to Fractured Atlas and are tax-deductible to the extent permitted by law.
It would be really helpful if you can give at least $25, but please consider any gift you can afford. Thank you!
Fractured Atlas Learn more about their support for artists, including fiscal sponsorship for hundreds of artists' projects
South Beach Chamber Ensemble Their concert series in Miami is called Music in Beautiful Spaces
Quinteto music - Coming soon I'm working on the score now, so I can publish it on Spindrift
Thank you for your interest and support!
Back to Guild Overview