Women Composers Spotlight: Flutes with Poetry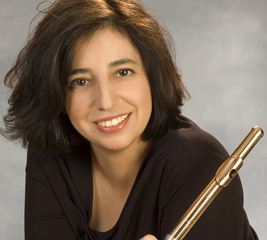 Deborah Boldin, flute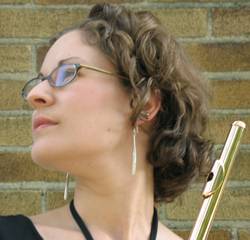 Jessi Rosinski, flute & alto flute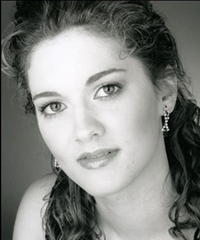 Jodi Hitzhusen, soprano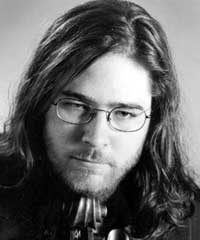 Rafael Popper-Keizer, cello
Concert
Friday April 9, 2010 8pm
Democracy Center
45 Mount Auburn St. very near Harvard Square
Cambridge, MA

Sponsored by Art Without Borders and produced by Spindrift Music Company
Admission $10 Buy tickets
Download PDF color poster JPEG B&W poster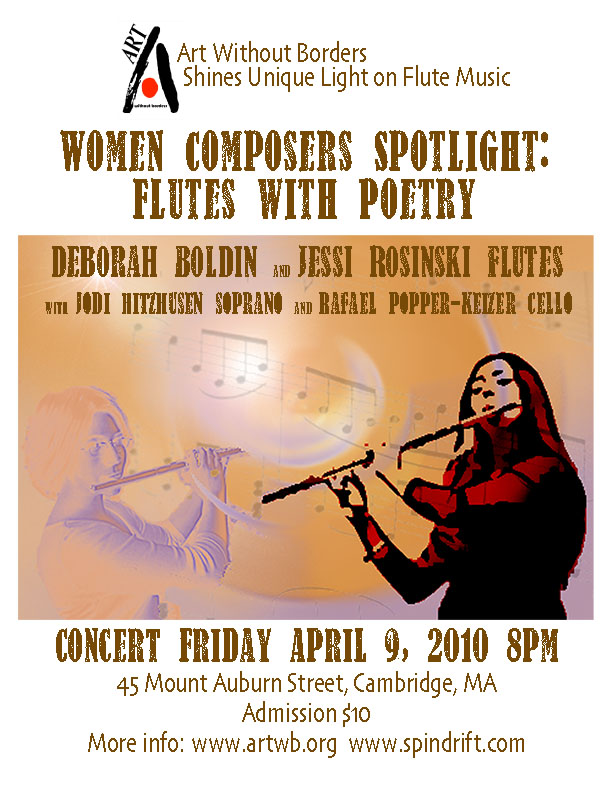 Musicians
Deborah Boldin, flute
Jessi Rosinski, flute and alto flute
Jodi Hitzhusen, soprano
Rafael Popper-Keizer, cello
Women Composers Spotlight: Flutes with Poetry features several of Boston's finest performers. Deborah Boldin, flute, is the director of the renowned Chameleon Arts Ensemble. Jessi Rosinski, a member of Callithumpian Consort, performs on flute and alto flute. Each one is featured in both solos and duos.
Jodi Hitzhusen, soprano and member of the Voci Angelica trio, joins Jessi in the challenging Haiku by Ursula Mamlok. Rafael Popper-Keizer, cello, is a featured chamber musician with many local groups and is principal cello in Boston Modern Orchestra Project.
The poetry connection includes flute solos inspired by poetry by Pamela Marshall, the concert producer, and by Terry Winter Owens. Sound collages by Sabrina Pena Young and Pamela Z complete the program.
The music
Duos
Sonatina by Shulamit Ran for two flutes (1961)
Re:pair by Alex Shapiro for two flutes (2000)
Llef by Hilary Tann for flute & cello (1988)
Haiku by Ursula Mamlok for flute/alto flute & soprano (1967)
Solos
High Flight (2008) and Communing With Birds (2008) by Pamela J. Marshall for flute solo
Supernova by Terry Winter Owens for flute solo (2003)

East Wind by Shulamit Ran for flute solo (1988)

A Glass of Water Lights the World by Sabrina Pena Young for cello (2004)
Interludes - Sound Collages
Origins by Sabrina Pena Young (2008)
Selection by Pamela Z (2004)