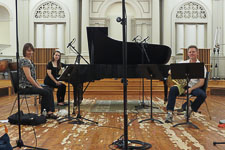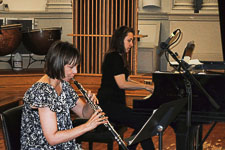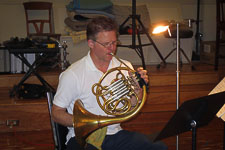 Concerts
Isolde's Garden & Cornwall Hunt
for horn quartet
Performers are Rebecca Dodson-Webster, horn professor & her students

PASSHE Women's Consortium Conference: "Woman as Hero"
Mansfield University, Mansfield, PA
September 20, 2013

Walden at Evening
for solo horn, SATB chorus, percussion
Premiered on Thursday, August 1, 2013 by soloist Jonathan Boen and the Memphis Symphony Chorus, conducted by Lawrence Edwards
International Horn Society
45th Annual Symposium
Memphis, Tennessee USA
See ihs45.org for info

Featured
Music for Horn
Solo
Sunrise on the Hills solo horn (2007)
Colored Leaves solo horn (1994)
Altered
solo horn (2011)
Greylock Mountain Fanfare
solo horn (2012) NEW
Never Say Nevermore
horn, piano (2007) coming soon
Triptoe Suite horn, piano (intermediate) (2006)
Miniatures for Unaccompanied Horn solo horn (1973)
published by Subito Music Corp.
Horn ensemble
Labyrinth
6 horns (2012) NEW
Among Friends
4 horns (2008)
Black Bear Dance
4 horns and drums (2006)
wild horn whose voice the woodland fills
8 horns (2005)
Echoes of Golden Brass
8 horns and organ (2004)
Isolde's Garden and Cornwall Hunt 4 horns (1995)
Chamber
Waves and Fountains
oboe, horn, piano (1997)
Wanderer brass quintet (1985)
Among Friends trumpet, 2 horns, euphonium/trombone (2006)
News
Concord Orchestra in September
Like the Orchestra on Facebook and find out about the next season with Triple Helix as our October soloists. Triple Helix will also play a Benefit concert for the orchestra in September.
Why Concord Orchestra? I'm a member of the horn section. Also, I'm finishing a term on the Board this coming season.
Recordings
Listen, Share
Buy in the Spindrift Bandcamp Store
Spindrift links to printed music
The sheet music for Play Book comes with the CD or download on Bandcamp
Spindrift Recording Service
Concerts • Recitals
On-location sessions
in and around Boston
Specializing in chamber ensembles and choruses
High-quality and affordable
Click for details