A Spindrift Commissioning Guild Project for 2007
Art-Poem-Music: Body and Soul
About the project
An exciting opportunity arose for me when poet Elizabeth Kirschner contacted me about collaboration. She enjoys working with composers and her combining of human and nature imagery really appealed to me, so it seemed a natural to do a project together. The right project appeared when artist Sirarpi Walzer was scheduling concerts and readings for the Depot Square Gallery here in Lexington, MA. She plans all the events there, but for her own art exhibition in February, there was an opportunity to connect music and words with her art. The exhibition is titled "Body and Soul".
Elizabeth began writing poems as she studied Sirarpi's paintings and mixed media work. Then I began writing songs. There is no piano at Depot Square, so the orchestration for the first set of songs is voice and string trio. It's underway now and time is short! (Jan 2007)
Art by Sirarpi Heghinian Walzer
The first six songs, Volume 1, are Touch and Believe, Grace, The Death Drums, Each Stitch, Shattered Sunflowers, and The Grief Tree. They are for mezzo, violin, viola, and cello.
After the first six songs, premiered on Feb 2, 2007, I started right away on the next three, for soprano, flute, cello and piano. They are: Mulched by Moonlight, O Trill, and The Lost Roots.
I've also set several poems for reader and semi-improvised ensemble. I don't know whether I'll also set those poems for singer, or have a mix of spoken and sung for the final result.
Volume 2 has been performed twice (see below). Check out photos from the Feb 29 concert.
Photo Gallery from the Feb 29 2008 concert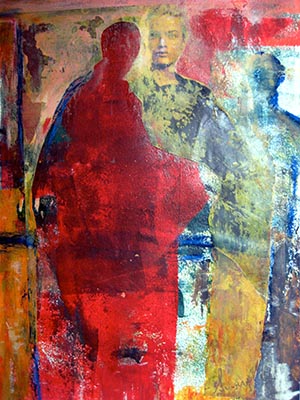 About the artists
Art of Sirarpi Walzer at swalzer.com (shown at right)
Biography of Elizabeth Kirschner
Biography of Pamela Marshall
Newsletter and poster (pdf)
Body and Soul in concert
Initial events at Depot Square Gallery
January 30 through February 25, 2007 Body and Soul solo art exhibition by Sirarpi Heghinian Walzer
Friday February 2, 2007 7:30 Art-Poem-Music: Body and Soul concert/reading presented by Pamela Marshall and Elizabeth Kirschner. This concert presented the six songs of Volume 1. Performers include Miranda Loud, mezzo-soprano; Melissa Howe, violin; Ken Stalberg, viola; Joan Esch, cello
Sunday February 4, 2007 2-4pm Opening reception for Body and Soul art exhibition
More events
March 29, 2007 Body and Soul Volume 2 at Andover Newton Theological School, part of the exhibition WomenWatch: A Passage to Hope. Performers were Jodi Hitzhusen, soprano; Lisa Conley, flute; Jing Li, cello with the composer at the keyboard.
February 29, 2008 - Art-Poem-Music Project concert Concord, MA; Body and Soul Volume 2 in concert February 29, 2008, with several Poetry-Inspired solos on the program too. Performers: Jodi Hitzhusen, soprano; Susan Jackson, flute; Jing Li, cello; Karen Sauer, piano
Photos from the Feb 29 concert
May 16, 2008 - Art-Poem-Music on the First Parish Summer Series Friday at noon; Body and Soul Volume 2 Performers: Jodi Hitzhusen, soprano; Susan Caplan, flute; TBA, cello; Karen Sauer, piano
May 2009 - IAWM Search for New Music, Miriam Gideon Prize, awards Honorable Mention for Body and Soul Vol.2. Download the IAWM press release.
May 27, 2009 - Jodi Hitzhusen joins performers at Univ. of North Carolina Greensboro to sing Body and Soul Vol.2 at FTM10. Photos on Facebook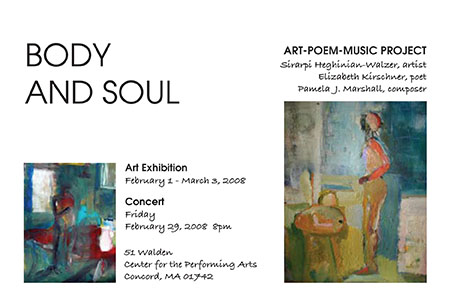 MP3 samples from the
Feb 2008 concert
Performers are Jodi Hitzhusen, soprano; Susan Jackson, flute; Jing Li, cello; Karen Sauer, piano.

Guild Members and Supporters
The following friends and supporters have contributed to support Art-Poem-Music: Body and Soul:
The following businesses supported our first concert on February 2, 2007:
Pathfinders' Fitness By Design, Ann Burgess
135 Madison Ave, Arlington, MA 02474, 781-488-3433
Tutto Italiano, Italian Specialty Grocery
45 Waltham St, Lexington, MA 781-541-6585
Conundrum, restaurant - unique global cuisine
56 JFK St, Cambridge, MA 02138, 617-868-0335
Depot Square Gallery
1837 Mass Ave, Lexington, MA 02420, 781-863-1597
Progress Reports
Comments while composing the initial volume of six songs:
November 2006 - Elizabeth began writing poems and they poured out quickly. I felt behind immediately, but as I read certain poems jumped out and I started with "Touch and Believe". I like to have a natural phrasing of the text so I did a lot of singing, in the privacy of my studio, to find the right line. To keep the flow spontaneous, I recorded my singing and quickly created a melody for the whole song.
December 2006 - There a lot of things going on and it's hard to find the time to write every day, but I've got several songs in various sketch stages.
January 2, 2007 - I'm polishing the scores with expression marks and adding a rehearsal piano part. There will be six songs ready for the concert: Touch and Believe, Grace, The Death Drums, Each Stitch, Shattered Sunflowers, and The Grief Tree.
The poems freely combine images of death and sadness with transformation and transcendance and remaking of oneself. My first inclination was to treat death literally - heavy and sad. However, I've found myself becoming more comfortable with all of Elizabeth's imagery as a continuum of existence. It's a good feeling and I think this comes across in the music. What troubled me at first became liberating. I'm particularly pleased with the scherzo nature of my setting of The Grief Tree.
January 5, 2007 - There are costs involved in all of this, so I have devoted some time to getting materials together to ask local businesses to advertise in our program. It seems a distraction from music creation, but necessary. I'm also thinking about the rest of the 22 poems. I plan to set those, maybe with another accompanying ensemble, and the whole would make a good CD. Sirarpi and Elizabeth also are hoping to publish a book that combines the art and poems.
January 10, 2007 - I've delivered the music to the performers with enough time left for preparation. Yeah! Now to let friends and music lovers know about it...
Join the project
There will be at least two more volumes of songs for Body and Soul. Consider sponsoring the creation of this work or a concert.
There are many expenses involved with a concert and exhibition, in addition to any income the creators might hope for. Costs include performers, materials, publicity, recording, etc. We invite you to join the Guild to support the creation and presentation of Art-Poem-Music: Body and Soul.
You can join online with Paypal or send a check.
Dollars and benefits The suggested amount is $25, and you can choose to receive a CD or a downloadable mp3 of the performance (with performers' permission). You can also choose to have a PDF file of the music emailed to you after the premiere. If you would like a printed score and parts, please consider a contribution amount of at least $50.
If you have any questions, don't hesitate to call, write or email (contact info).
Pay by check Send your check with this Guild membership form (a PDF file that you can print).