Concert Calendar 2010
IAWM 2010 Annual Concert: An Acousmatic Evening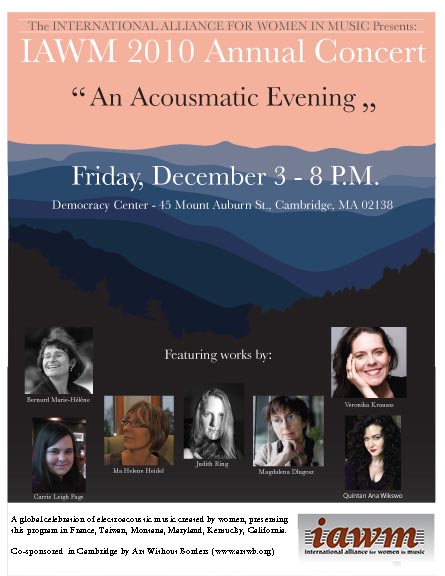 Friday December 3, 2010 8pm
Democracy Center, 45 Mount Auburn St, Cambridge, MA $10 suggested donation
Presented locally by Art Without Borders and Spindrift Music Company
The IAWM annual concert premiered in Lyon, France in October. It is being repeated in several locations around the world, including Cambridge, MA on December 3. Electronic and computer-generated and processed sound, and video.
IAWM web site press release concert poster
Waterland (1990/2010) by Veronika Krausas, Canada with video
Ombrarchetto (2003) by Magdalena Dlugosz, Poland
Emergent (2009) by Carrie Leigh Page, USA
Mouthpiece (2005) by Judith Ring, Ireland
Pigeon Heart (2005) by Bernard Marie-Hélène, France
Reminiscence R2 (2010) by Ida Helene Heidel, Norway
Pisces Rising
Chamber chorus directed by Suzanne Jubenville and Jeffrey Jubenville
Friday September 17, 2010 12noon
First Parish Unitarian, 7 Harrington Road, Lexington
"Sacra et Profana" - music and poetry celebrating earthly passions and transcendent joys
The program includes movements from "Meditations" for organ by Pamela Marshall (that's me). I'll be singing in the alto section too.
Esprit de Cor
An ensemble of many French horns, conducted by David Archibald
Friday October 8, 2010 12noon
First Parish Unitarian, 7 Harrington Road, Lexington
Hunting Calls, Star Wars, Schumann choruses, Mahler and Marshall
Includes "wild horn whose voice the woodland fills" for eight horns, which I wrote in memory of our former member and friend Jeanne Traphagan
Vortex - New and Improvised Music Series hosted by Todd Brunel
Friday July 2, 2010 8pm
Outpost 186, Inman Square, Cambridge, MA $10 suggested donation
Chamber music and free improv - with Todd Brunel, bass clarinet, and John McLellan, percussion
Lexington Music Club
Wednesday June 2, 2010, Lexington, MA
Premiere of Pamela Marshall's Returning for solo clarinet, performed by Grant Anderson
Call or email me if you'd like an invitation
Women Composers Spotlight
Flutes with Poetry
Friday April 9, 2010 8pm (more about the concert)

Sponsored by Art Without Borders and Spindrift Music Company
Democracy Center, 45 Mount Auburn St, Cambridge, MA
Featured performers
Deborah Boldin, flute & Jessi Rosinski, flute and alto flute
Jodi Hitzhusen, soprano & Rafael Popper-Keizer, cello
Music by Pamela Marshall, Hilary Tann, Ursula Mamlok, Alex Shapiro, Shulamit Ran, Sabrina Peña Young, Pamela Z
Quinteto sobre los Poemas de Carlos Pintado
Piano Quintets by Farrenc and Marshall
Friday March 12, 2010 8pm
Follen Church, 755 Mass Ave, Lexington, MA (more about the concert)
Spindrift Music presents the New England premiere of Pamela Marshall's piano quintet Quinteto sobre los Poemas de Carlos Pintado, plus Piano Quintet No. 2 by Romantic-era composer Louise Farrenc.
Supported by generous members of Spindrift Commissioning Guild
About the concert and the Guild

This program is supported in part by a grant from the Lexington Council for the Arts, a local agency which is supported by the Massachusetts Cultural Council, a state agency.
Middlesex Community College World of Music
Chamber Music for Piano and Strings
Sunday March 7, 2010 7:30pm
MCC Concert Hall, Middlesex Community College, 591 Springs Road,North Academic Building, Bedford Campus, Bedford, MA 01730.
Fantasy Pieces for cello and piano by Robert Schumann
Excerpts of Piano Quintets by Pamela Marshall (2009) & Louse Farrenc (1840)
Performers: Carmen Rodríguez-Peralta, piano; Abigail Karr, violin; Sarah Darling, viola; Rafael Popper-Keizer, cello; Susan Hagen, double bass.
On March 12, you can hear the full versions of both piano quintets (see next event).
The concert is free.
About the concert and the World of Music series

Lexington Music Club
Sunday, January 31, 2010 3 PM
First Parish Unitarian, Harrington Road, Lexington, MA
The Lexington Music Club public concert raises money for a Lexington High School music scholarship.
Pamela Marshall leads an improvisatory performance of Dialog Among Tree Frogs featuring horn players Jim Phelan and Alan Ventura