THROUGH THE MIST
Chamber music for winds and strings by Pamela J. Marshall
Ravello Records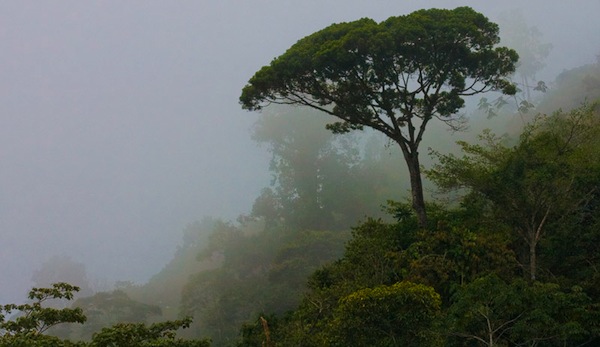 Communing with Birds
unaccompanied solo for flute
Inspiration
Birdwatching is one of my favorite activities, so for my 50th birthday, I planned our second trip to Costa Rica. When we came back, I clung to the memory of being surrounded by noisy, singing birds, communicating through the forest understory in a small river valley near the Rancho Naturalista nature lodge, in the mountains near Turrialba. There we saw many birds up close as well as when we walked down forest trails with their expert guide.
The Music
This music comes out of those memories as I imagine the flutist joining the soundscape. There's no birdsong quoted; it is a rhapsodic response to the chorus of birds.
Susan plays the music beautifully as an extended cadenza, freely and expressively. There are some showy phrases mostly birdlike repeated figures, but most of the music is lyrical. The opening theme has an F minor flavor.

A lyrical answering phrase then becomes the bird-tapping motive with the high notes that are naturally accented.

Measures 21-24 illustrate the slow rising motive that occurs a little faster again near the end. For me this symbolizes the grace and majesty of the natural world that Communing with Birds celebrates.

The opening time signature is 4/4, but the rhythm is free, frequently syncopated but not aligned with a regular beat. Measures 29-30 illustrate the avoidance of a quarter-note pulse. Perfect rhythmic accuracy is not required, but observing the notated rhythm and then becoming freely expressive with it is the goal.

The second second section begins with rising gestures and more space.

The rising scale spanning a fifth starts in m.43 and repeats insistently until the music breaks forth into another irregular birdlike call.

Images
The Costa Rican rainforest blankets the slopes of the mountains, with occasional big trees growing high above the rest. The picture at the top is the canopy at Rancho Naturalista near the town of Turrialba, south of San Jose.
Then there are birds: Here's a tiny selection of birds and scenery from our 2004 trip to Costa Rica. Photos by David Emerson, Honeycreeper Images.
---